On the heels of his excellent return to racing the previous week in Sweden, Suleiman Zanfari was very competitive in Finland on 11th and 12th May 2019 during the second round of the IAME Nordic Cup. At 63° North, more than 5000 km from his base, the young Moroccan faced 36 excellent X30 Junior drivers on the Alahärmä circuit which next September will host the FIA ​​Karting World Championship – Junior. He confirmed his exceptional return to form by mounting the 2nd step of the podium of the race of Saturday.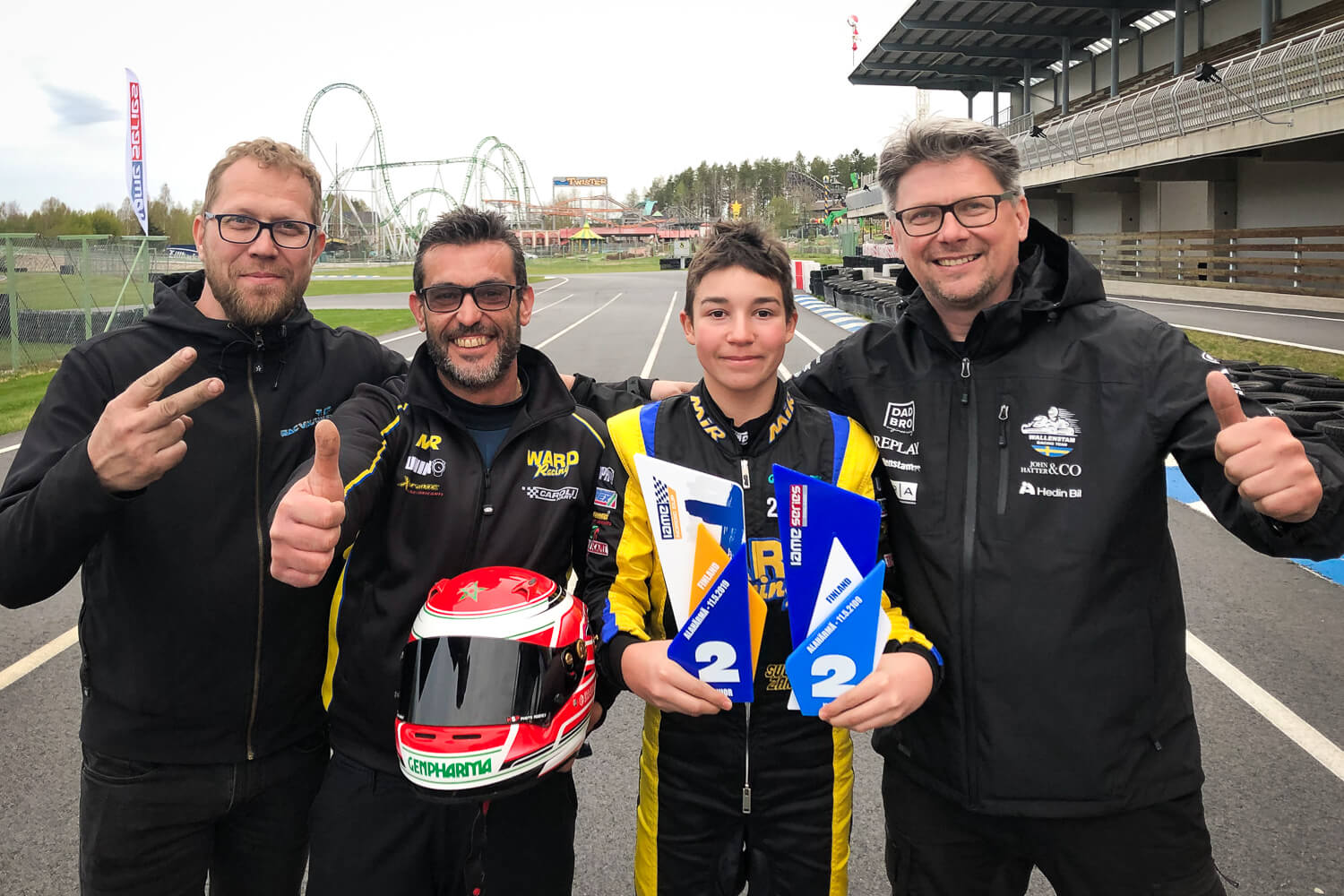 For the occasion Suleiman was driving a Tony Kart from Sweden's West Speed ​​Racing team with Kari Prosi. His X30 Junior engine came out of the workshop of Finland's Kalle Valtonen – MKV Engines. The Alahärmä circuit and the presence of Gabriele Bassetta, his regular mechanic, were the only landmarks for Suleiman in this Nordic challenge with low temperatures. The Moroccan driver had learned and enjoyed the Finnish circuit during the third round of the 2017 FIA Karting Academy Trophy, already performing well.
Faced with the best Scandinavian specialists in X30 Junior, Suleiman achieved good progress throughout the competition. He started with 11th in Qualifying on Saturday and climbed to 7th place in the Qualifying Heats after finishing 4th and 6th. In the 24 laps of the Final, Suleiman took the measure of his opponents and went on the attack at the end of the race. In 4th three laps from the finish, he regained some ground on the penultimate lap and crossed the line in 2nd position.
"As in Sweden a week ago, I felt very comfortable in Finland," said the driver from El Jadida. "I immediately got along with the West Speed ​​Racing team and I had full confidence in my equipment. I was able to concentrate on  enjoying driving at Alahärmä without distractions. I waited for the right moment to go on the offensive and I was able to gain four places in two laps to get on the second step of the podium. I am delighted to confirm my return to form in international kart racing."
Suleiman is now in good spirits and will be back at the end of the week with the FIA ​​Karting European Championship – Junior in Belgium at Genk, another circuit that he likes.